Police, city attorney weigh in on tickets issued in weather-related crashes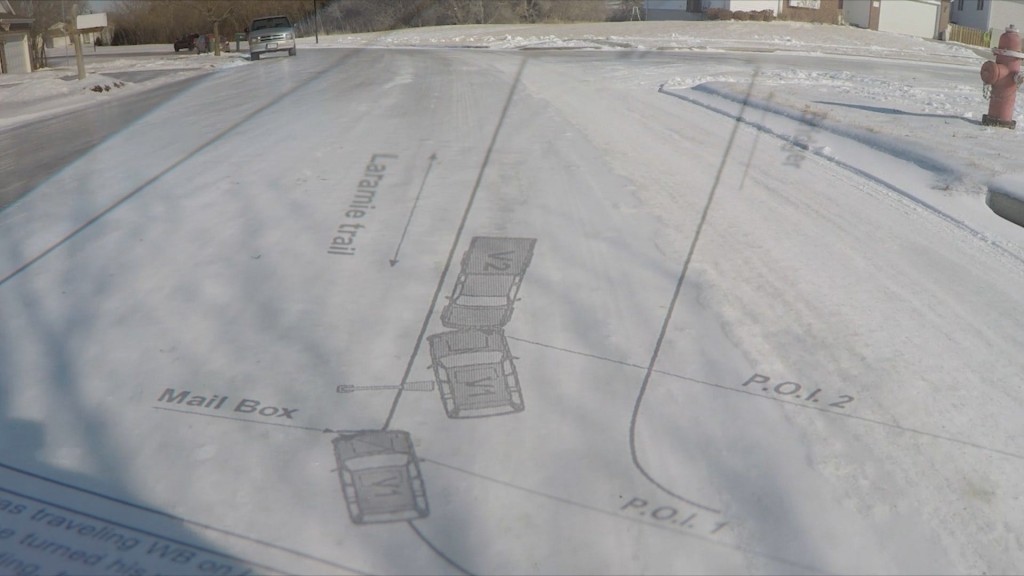 Kelsey Shraer had a bad day.
Leaving for work, she backed out her driveway, lost traction on her icy residential street, and watched helplessly as she slid down a hill and bumped into another car.
"Nothing I could to avoid it," Shraer said. "Nothing at all."
She got out, inspected the other vehicle – which she says was not damaged – and then called police to file a report. An officer arrived and eventually wrote her a $149 ticket for the accident.
But Shraer thinks she shouldn't have to pay. After all, she says, the street hadn't been plowed – something that out of her control.
"Why am I being punished for someone else not doing their job?" she said.
Shraer's accident is just one of hundreds Lincoln police have responded to in the past week. In many cases, the end result is a citation being issued just like in Shraer's situation.
But in other cases, the opposite is true.
Channel 8 Eyewitness News reviewed accident reports filed by LPD between Friday and Monday. More than 100 of them were blamed on icy roads. In 29 of the reports, no citations were issued – with eight officers singling out the poor conditions as the reason they didn't write a ticket.
The City Attorney's office reviews each ticket and ultimately decides whether to file or dismiss them. City Attorney Jeff Kirkpatrick told Channel 8 Eyewitness News that, while weather is a consideration, it's not enough to get a ticket thrown out.
"Are we going to say, 'Well, that was a really bad storm so I'm going to look at every ticket differently because it's a bad storm'? No," Kirkpatrick said. "If you're driving through a red light then you're driving through a red light – whether it's during a blizzard or a 100 degree July day."
But what about when a city worker is involved? Channel 8 Eyewitness News also found at least four reports of cit plows hitting other vehicles. Kirkpatrick says city employees are held the same standards as residents.
"If the question is, 'Are they ticketed?' the answer is, yeah, quite often they are ticketed if they break the law," he said.
Kirkpatrick says in some cases the charges are reduced or thrown out. That's exactly what Kelsey Shraer says she hopes happens with her ticket. She says she's working with an attorney and plans to fight the ticket in court.
When asked about why and when citations are issued, the Lincoln Police Department provided the following statement:
"Part of the Mission of the Lincoln Police Department is ensure safe transportation through traffic direction, law enforcement and accident investigation. The efforts of Lincoln Police Officers to perform their duties, including traffic enforcement with consistency and impartiality is a core tenet to our service to the citizens of Lincoln.
According to Lincoln Municipal Ordinance, it shall be unlawful for the driver of any vehicle on any street within the City to drive at a rate of speed greater than is reasonable and prudent under the conditions then existing and when a special hazard exists that requires lower speed.
Each year, the Lincoln Police Department responds to thousands of motor vehicle collisions. The purpose of conducting a motor vehicle collision investigation is to protect the public, restore the orderly flow of traffic, record information required by law, and enforce traffic law violations. In 2019, police officers investigated 8,669 collisions and issued 5,552 citations as a result of those collisions (64%).
Many factors must be considered when questioning why one driver receives a citation as the result of a collision and another does not. Per LPD policy, if the investigating officer develops probable cause to believe that a driver(s) violated a traffic law, the officer should cite the driver(s). Officers may exercise discretion in some situations if mitigating circumstances exist, such as a driver who experienced a medical episode. Generally, officers will issue citations because the collision is an aggravating circumstance, thus, warranting a citation. LPD officers may not issue citations for collisions that occur at open, uncontrolled intersections. In addition, officers may lack sufficient probable cause to cite a driver for a violation (perhaps due to conflicting stories from drivers and a lack of independent witnesses or corroborating evidence). Finally, officers may not issue a citation because some collisions involve motorists leaving the scene without reporting the incident, and thus, the officers are not able to identify them."