UPDATE: Police investigate fourth Molotov cocktail incident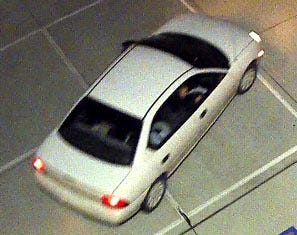 By: Lauren Fabrizi
lfabrizi@klkntv.com
Police are still looking for the people responsible for setting off Molotov cocktails in south and north Lincoln.
Now, there's another incident to be added to the list: one in the parking lot of St. Peter's Catholic Parish near 46th and Old Cheney Road.
"I don't know, it's kind of creepy to think that this happened," Fay Fayad, who lives across the street, said.
Pictures captured from St. Peter's surveillance camera show the suspects were driving a white four–door sedan. Based on the time stamp, police said the incident occurred around 9:45 p.m. Wednesday, before the other three incidents.
"Someone from inside the vehicle threw out Molotov cocktail into the parking lot," Ofc. Katie Flood of the Lincoln Police Dept. said. "It burned for about one minute before going out."
The diocese said no one was inside the church at the time. Police said there was minor damage to the parking lot.
Fayad said she heard a crack that night, but thought it was a firework.
"We didn't even go outside to look or anything," Fayad said. "So I'm thinking maybe we need to be more careful and look outside, and check the perimeter and see if there's anything going on."
Police said the next two incidents happened around 10 p.m. in a neighborhood near 40th and Old Cheney. Then the final, near 48th and Leighton shortly after.
In all three cases, witnesses said the Molotov cocktails hit a curb and exploded, causing little damage. But with it being so dry, there was concern the fires could have spread easily.
Police do not have any suspects. A Molotov cocktail is considered a fire bomb; setting one off is a felony.
—————————————————————————————–
By: Channel 8 Newsroom
8@klkntv.com
UPDATE: Lincoln Police say there was a fourth Molotov cocktail incident Wednesday night, and a surveillance camera at St. Peter's Catholic Church at 4500 Duxhall Drive caught images of the suspects' car. The fourth incident, according to the surveillance camera time stamp happened before the others. Police say the fourth Molotov cocktail was lit near the church.
————————————————————————————–
By: Jenn Schanz
jschanz@klkntv.com
Lincoln police are investigating three Arson attempts they believe are all connected.
Just after 10 Wednesday night, they got a call that a Molotov cocktail went off in a neighborhood near 40th and Old Cheney.
Moments later, another call; a second one had gone off just a few blocks away.
"We were a little shaken up, I mean it's kind of scary it was really windy and as dry as everything's been, it could have been our whole lawn or our house," says Bridgette Neemann. The Molotov cocktail exploded right in front of her house.
Toby Tyler lives nearby.
"It's pretty disconcerting, I mean, that's gas and a bomb," he says.
Shortly after the first two, a third Molotov cocktail exploded near 48th and Leighton.
Witnesses say in all three cases, a light colored sedan drove away. They also say that in all three instances the Molotov cocktails hit the curb and then exploded, not causing too much damage.
But fire officials say given how dry it was Wednesday, that's pure luck.
"Just by the sheer number of grass fires we've been having over the first month and a half of this early spring, you know any ignition source at all, and then with the winds we have here in the Midwest, it can really get going. And then the fire department has a heck of a time playing catch up," says Chief Fire Inspector Bill Moody.
Fire officials say it's so dry right now, they're not even issuing burn permits until things get a little greener.
A Molotov cocktail is considered a fire bomb, setting one off is a felony.