Police investigate home invasion robbery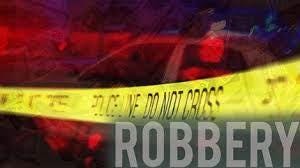 By: Lauren Fabrizi
lfabrizi@klkntv.com
A home near 25th and D Streets in Lincoln was the scene of an armed robbery early Sunday morning.
"I'm surprised there would be an armed robbery," Lorri Loch, who's familiar with the area said. "We have a church just right down the street."
"Armed robbery, that's a little new for this area," neighbor Jason Smith added.
"Scary for the kids' sake," Davandis Miller said.
Police were called to the scene just after 1 a.m.
A young couple said they were playing board games late into the night with a friend, when a male suspect entered their home through an unlocked door. They said he was armed with a handgun and demanded them to get down.
One of the victims said she was completely dumbfounded at first, and in less than two minutes, she said he was gone with a cell phone, wallet and purse.
Police describe the suspect as a black male in his 20s, about 5'11", around 150 to 180 pounds. They said he was wearing a grey sweatshirt and black bandana.

The couple said they're still pretty shaken up, but believe it was just a freak incident.
Neighbors said they're glad no one was hurt.
"Better to lose a little bit of money than to lose your life," Aaron Gonzalez said.
Added Miller: "Nobody was really injured, that's all that matters."
The suspect is still on the loose. Police continue to investigate.