UPDATE: Police release robbery surveillance pictures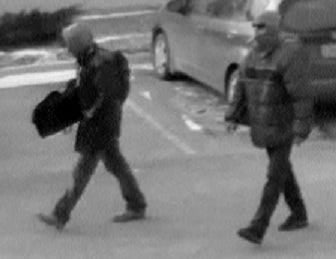 Posted By: KLKN Newsroom
8@klkntv.com
UPDATE: Lincoln police released several surveillance photos of the robbery suspects from Tuesday's incident at Z Wireless near 27th & Pine Lake. Police say the two men got away with about 30 smart phones and cash.
——————————————————————————————
An armed robbery at the Verizon store near 27th and Pine Lake had employees of Southridge Crossing strip mall on edge.
"I was in here by myself and I saw a couple cops pull up," says Caleb Bright, who works at a clothing store next door.
It happened just before 10 Tuesday morning.
"Two white males came in here, they had masks on and dark clothing, they were armed and took an unknown number of products out of here plus and undisclosed amount of money," says Capt. David Beggs of the Lincoln Police Department.
Police believe the suspects ran out a back door. The two employees inside weren't harmed, but one said he had a gun pointed at his head. The other suspect had a stun gun.
The Verizon employees wouldn't go on camera, but people who work nearby saw some of the commotion.
Bright says aside from being a little shaken up, he's also shocked that something like this would be happen at Southridge Crossing, a place that he says has always been very safe.
"You never really think about something like that happened, especially like south Lincoln, which is supposed to be so extremely safe all the time," he says.
Nearby schools were put under lock down for about 45 minutes.
Police believe these suspects could be involved in other recent wireless store robberies, and are continuing to investigate.
Anyone with information that could help police is urged to call Crime Stoppers at 402-475-3600.