UPDATE: Police arrest food burglar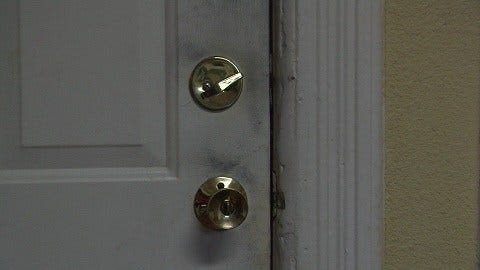 Posted By: Channel 8 Newsroom
8@klkntv.com
Lincoln Police arrested a homeless man who admitted to breaking in to a woman's house and stealing food.
Officials say 27-year-old Jeremy Talbot, listed as a transient, was taken into custody just after noon on Friday. Police responded to a trespassing call in the 100 block of S. 28th Street and found him with three others. Police say they recovered items stolen from a residence Thursday morning, and Talbot admitted to the burglary.
___________________________________________________________________________
By: Jenn Schanz
jschanz@klkntv.com
Lincoln Police are still searching for a burglary suspect. It happened Thursday morning just before two near 28th and M Streets.
They say a woman was sleeping on her couch when she heard noise coming from the kitchen..
"At first she thought it was just her husband getting something to eat. But as she walked into the kitchen she saw an unknown male standing there with the refrigerator standing open," says Officer Katie Flood of the Lincoln Police Department.
Police believe the man got in through the back door, which was left unlocked.
Denise, the victim, says she didn't know what to think.
"I was scared because it's no one that I know. I just immediately told him you need to get on out of here right now," she says.
Once Denise confronted the man she says that he took off.
Police tried to track him with a K9 unit but weren't able to. He's still on the loose. They're looking for a white male with brown hair between 40 and 50 years old. They say he's about 6 foot 1 and around 135 pounds.
He got away with some food, credit cards, and a butcher knife.
"I just feel very fortunate that he complied," Denise says.
Luckily, no one was hurt, but Denise has some advice for other homeowners; always lock the door behind you.
If you have any information that could help police, you're urged to call CrimeStoppers at 402-475-3600.