Dozens of animals rescued from Polk County home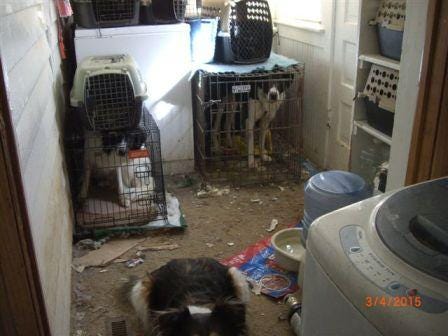 By: Camila Orti
Several animals agencies assisted the Polk County Sheriff's Office in seizing around 30 animals from a home east of Central City.
It's like something you might see on the hit TV series "Hoarders."
"I have never seen nothing like this before," Polk County Sheriff Dwaine Ladwig said.
Hearts United for Animals and York Adopt-A-Pet were called to a home in Polk Thursday to remove dozens of animals living in filthy conditions. Sheriff Ladwig says he was checking on the residents for a family member on Wednesday when he discovered what nobody could see from the outside.
"It's just a terrible sight inside that house and the smell was horrible," Ladwig said.
LaMoine Roth with York Adopt-A-Pet was one of many volunteers called to the scene. She says it was apparent that the dozens of pets in the home were not being cared for properly.
"There was just a lot of feces throughout the house," Roth said, "they were using the floor, they were using the sinks, they were using the bathtubs."
The animal rescue volunteers and sheriff's deputies found three people living inside with more than 20 cats and five dogs. Video taken by Hearts United for Animals shows garbage and fecal matter strewn all over the floor. Volunteers say the cages where some of the dogs were kept were too small and covered in filth. Even standing by certain doors and windows, you can catch a whiff of ammonia, or cat urine.
As far as the health of the animals, Roth says, surprisingly, only a few need medical care. On the other hand, many need to be vaccinated or spayed and neutered.
"They had had some collars that actually started to grow into their necks," Roth said of the some cats she found.
The sheriff's office says the Department of Health and Human Services has removed the residents, all of which have some degree of mental disability. The county health department and sheriff's office has tagged the home as unsafe to live in, and plan on condemning it.
Due to the cost of the veterinarian attention these animals need, the rescue agencies are encouraging people to donate if they can.
For more information, or to donate, visit the agencies' websites listed below.
Hearts United For Animals: http://hua.org/
York Adopt-A-Pet: http://www.yorkadoptapet.com/
Nebraska Border Collie Rescue: http://rescuebc.homestead.com/