Pool season preparations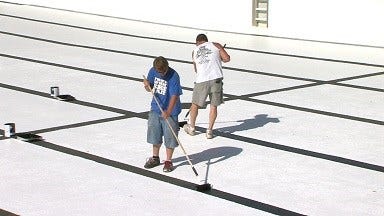 By: Jenn Hatcher
jhatcher@klkntv.com
Lincoln reached a 98 degree high on Wednesday, a perfect time to take a dip in the pool, but Lincoln City Pools are still empty.
Wednesday, crews were painting the pool at Woods Park, off 33rd and J street. "The maintenance staff have been working for a number of weeks already getting things ready both at the shop and at the pool," says Aquatics Director, Holly Lewis.
The pools will be filled next week and open Memorial Day weekend.
Pool passes are already available online, "If we have a day like today and it's warm and sunny and it's a beautiful day, we will be packed. The weather isn't always like that Memorial Day weekend though," says Lewis.
More pool information can be found here: http://lincoln.ne.gov/city/parks/ParksFacilities/pools/index.htm