Update: Police arrest York High School student for bomb threat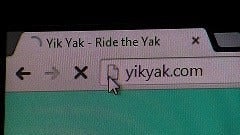 Posted By: KLKN Newsroom
8@klkntv.com
UPDATE: Police have arrested 18-year-old Ryan Boyer of York High School in connection with a bomb threat against the school Tuesday, according to Sgt. Mike Hanke of the York Police Department.
A search warrant was served at Boyer's home Tuesday. Boyer, a senior, was arrested 9:30 a.m. Saturday. He's lodged at York County Jail on a terroristic threat charge.
—————————————————————————————————————————————————
PREVIOUS STORY:
Posted By: Jenn Schanz
jschanz@klkntv.com
York High School students had to go through some extra security Tuesday morning following a possible bomb threat.
It was posted anonymously on the social media app Yik Yak Monday night.
The following morning, students had their bags searched before school by law enforcement. Bomb sniffing dogs were also there early Tuesday morning.
Nothing suspicious was found.
I spoke to a couple seniors; Haley Buller says most students are concerned.
"Anxious or something, like they're nervous about coming to school. Moreso the parents are really nervous and skeptical about it," she says.
But not everyone's convinced the posting is serious.
"I'm not concerned about the bomb threat. I know some students are just staying home but I don't think it's serious. It's just some kid commenting on Yik Yak," says fellow senior Hayden Buchholz.
York Police Chief Donald Klug says the posting was vague; it mentioned it would be quote "an explosive" day at school.
Because of the nature of the site, it's hard to trace.
"These posting are anonymous. Nobody has any idea of where they come from. That's why we're hoping that the media site can assist us in identifying where they came from," Klug says.
As far as penalties go, the person responsible is facing serious ones.
"We will pursue the most severe punishment that we can, which is an expulsion," York's Superintendent Mike Lucas tells me.
From the criminal standpoint, the person responsible could face Terroristic Threats or Threatening to Use Explosives; both Class IV Felonies that carry jail time.
Again, York Police don't have any suspects at this time. They're working with Yik Yak to try and locate the source of the posting.