Possible water restrictions if drought continues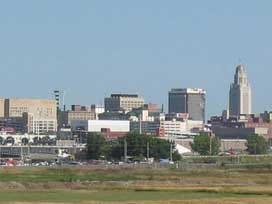 By: Kayla Bremer
kbremer@klkntv.com
Mandatory water restrictions could be possible in the near future if drought conditions continue.
With last week's voluntary water conservation announced by the Mayor, Lincoln Water System is still encouraging residents to cut down on outdoor water use.
Water conservation guidelines are still voluntary for now, but with temperatures near 100 and lack of rain, mandatory water restrictions may not be far off.
Since the Mayor's announcement last week, water usage has actually gone up putting Lincoln's average water usage over 71 million gallons per day.
"We really would like people to, even though it's voluntary, to really get on the schedule because our usage has not really dropped very much and we need to get it down," said Manager of Operations at LWS, Jerry Obrist.
With a severe drought already in Nebraska, and conditions worsening here in the East, forecasts right now show no relief in sight. So Obrist says following the schedule will help cut down water usage as well as avoiding a mandatory restriction.
"People have responded very well in the past and we're hoping they do the same again," he said. Street addresses ending in even numbers should only water on Wednesdays, Fridays and Sundays. Odd numbers watering on Tuesdays, Thursdays and Saturday.
We also spoke with LES and they said due to high energy use, there is a possibility that a watch will be released in the next couple of days, meaning LES will encourage customers to use less electricity by outlining measures people can take at home.
Making small changes such as setting your thermostat three degrees higher can help conserve energy as well as cut down on your bills at home.