Potholes are a Priority Again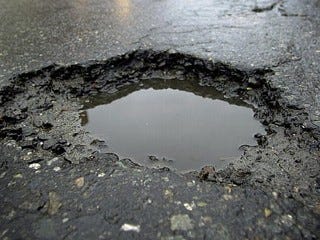 Mayor Chris Beutler said the City will again be using private contractors and staff from other City divisions and departments for pothole repair starting Tuesday.
The City added contracted crews and diverted City staff from January 27 through February 3 to increase the City's response to the pothole emergency. During the first five weeks of 2010, crews have filled close to 24,000 potholes throughout the City.
"Our increased efforts had a big impact – by the middle of last week, crews had pretty much caught up on the backlog of pothole calls," Mayor Beutler said. "But the rain, snow and cold conditions since then have cause two problems – the fill in some of the potholes, especially those along the curbs, has come loose. New potholes also have formed. It's time to redouble our efforts again."
In addition to the private contractors, Public Works will again use staff from the Water and Wastewater Division, the Traffic Division and the Parks and Recreation Department starting tomorrow. Public Works officials remind residents that all repairs being made now are temporary because crews are using a "cold mix." to fill the potholes. Residents can report potholes and other non-emergency street problems in three ways:
Call the Pothole Hotline at 441-7646. If that line is full, callers can use the Neighborhood Hotline at 441-6300.
Call the Street Maintenance Division of Public Works and Utilities at 441-7701. Street problems requiring immediate action should be reported to this number.
Use the online form available on the home page of the City Web site, lincoln.ne.gov, under the heading Citizen Action Center (selected "Street – Pothole"). This form also may also be used to report stormwater, snow and ice problems.