Power being restored in eastern Nebraska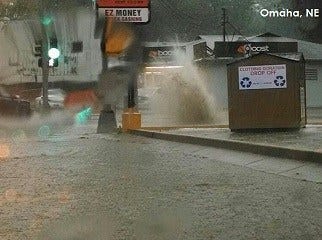 Posted by: KLKN Newsroom,
8@klkntv.com
OMAHA, Neb. (AP) Electrical power has been restored to all but a few hundred customers in eastern Nebraska who lost electricity when powerful thunderstorms rolled through.
Omaha Public Power District says that, as of 6 a.m. Wednesday, 306 customers still had no power because of 121 incidents in the district's service territory.
OPPD spokesman Mike Jones says the outages peaked at more than 5,100 a little after 7 p.m. Tuesday.
OPPD's service area includes all or part of 13 counties in eastern Nebraska.
Nebraska Public Power District's website says 122 customers in Craig and 748 customers Tekamah had no power. Both cities are in northeastern Nebraska.
Norris Public Power District says about 100 customers in DeWitt, Lewiston and other areas don't have power, down from around 3,500 that lost electricity during the storms.