Power outage reported after car strikes pole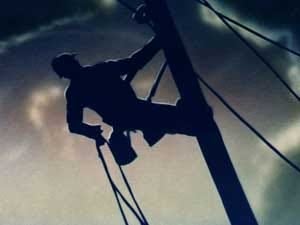 19th street was closed between O and P as LES crews repaired burnt power lines this morning. Fire Captain Brad Thavenet says at a nearby construction site around 9:00 Wednesday morning the raised box of a dump truck hit some above ground lines.
The lines sparked and blew a transformer, temporarily leaving parts of downtown without power. Lincoln Fire couldn't get the driver out of his vehicle until LES could de-energize the lines.
"Isolating the area that he's at the dump truck, letting LES come in and shut down the power and they assured us power was shut down then we could just walk up open the door and get him out. He was able to tell us out the window that he was fine," Capt. Thavenet said.
The driver was taken to the hospital for routine observation.