Problem shuts down keystone pipeline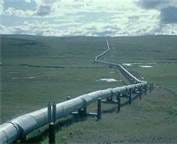 By: Dan Messineo
dmessineo@klkntv.com
TransCanada shut down the Keystone pipeline due to possible safety issues. A spokesperson for TransCanada says the shut down came after integrity tests showed a small anomaly on the outside of the pipe.
The 2,100 mile keystone pipeline that moves around 500,000 barrels of oil a day was shut down Wednesday night. A required integrity test showed a small problem on the pipe's exterior which raised safety concerns.
Grady Semmens, a spokesman for TransCanada said the shut down came after analyzing data from an inspection. "As a precaution, we've shut down the line so we can go in and take a closer look," Semmens said.
TransCanada reported the shut down to the Pipeline and Hazardous Materials Safety Administration. A spokesperson for the administration said the issues were found with the stretch of pipe running between Missouri and Illinois. She added no leaks were found on the line.
A federal inspector was sent to the area to monitor repairs to the pipeline and any other safety issues. TransCanada expects the pipeline to be up and running by Saturday.
The shutdown comes during a contentious debate about the safety of pipelines. TransCanada wants to build the Keystone XL pipeline that would stretch from Canada through Nebraska and end in Texas. Opponents argue it's too dangerous, but TransCanada says it would be the safest ever built.