Rainforest Summer Camp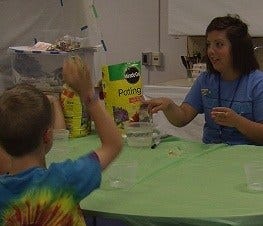 The halls of Randolph Elementary School have been transformed into a rainforest. It's part of a fun week–long summer camp. Here's Wednesdays, July 15ths "Excellence in Education" report.
The students are spending the week learning about the different animals of the rainforest and the teachers are bringing the books to life. Every student also got to make their own rainforest. They learned about the four different layers, planted grass and other seeds in the soil. Everyday they will add something new to their rainforest.
"I just really enjoy animals and learning about them," says Ashton Traudt.
"When we make our snakes they're actually going to get slimy and they're going to feel what they feel like. When they're planting their mini rainforest, they're actually putting the seeds in and they're seeing it grow, just like the rainforest would," says Katelyn Dlmeier.
The hands on learning isn't only taking place in this classroom. All of the students hope to take their completed rainforest home and keep them growing all summer long.