Rally at State Capitol calls for CIR reform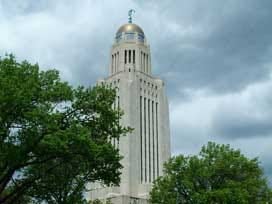 Small-government advocates are urging Nebraska lawmakers to reform a state commission can set public employee wages when labor negotiations stall.
More than 100 people rallied at the State Capitol Building Friday to push for changes to the Commission of Industrial Relations. The agency resolves labor disputes within state and local governments, public school districts, and public utilities. Organizers asked the Legislature's Business and Labor Committee to advance legislation by state Sen. Tony Fulton of Lincoln.
Fulton's bill (LB564) would strip the commission's power to establish wages and work conditions. The rally was sponsored by the Nebraska chapter of Americans for Prosperity, which pushes for individual economic freedom and small government. Speakers included Nebraska Attorney General Jon Bruning, State Treasurer Don Stenberg, state Sen. John Nelson and former Gov. Kay Orr.
Opponents of the bill criticized organizers of the rally saying it was planned on a day when most union workers were at their jobs.