Rally for the turning tide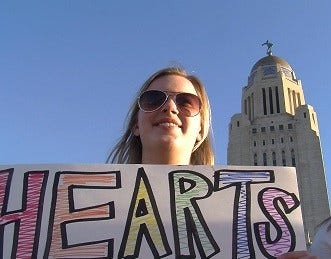 Posted By: Jenn Hatcher
jhatcher@klkntv.com
Supporters of gay marriage, congregated at the state capitol Monday for the "Rally for the Turning Tide."
It was the same day, Kevin Tjeerdsma and Corey Webster planned to legalize their marriage. Tjeerdsma said, "We had it planned, we were going to be there, at 1:30, we were going to have it all ago."
The gay couple had to change plans last Thursday when the federal appeals court announced Nebraska's gay marriage ban will stay in place, putting a federal judge's ruling, striking down the ban, on hold.
Outlinc, who hosted Monday's rally said, "Every minute that same-sex families are denied the legal protection of marriage is a minute too long. Outlinc will continue to work to make Lincoln and Nebraska a great place for gay and transgender people to live, work, and play. While the stay on marriage is a temporary setback, we are confident that the arc of history is bending toward progress."
The decision by the 8th U.S. Circuit Court of Appeals came days after Nebraska Attorney General Doug Peterson filed a motion to reinstate Nebraska's gay marriage ban. Had the appeals court ruled in favor of the lower court, Nebraska would have been ordered to recognize gay marriages and civil unions starting Monday.
The group protesting in front of the capitol said they'll keep fight.
"This is the state I care about, this is the state that I made my home in, that I built my career in and this is the state I will be married in," said Abbi Swatsworth.
The most recent decision means that Nebraska's ban will continue to be recognized until an appeal in the case is decided, possibly in May.