Rare lung disease claims life of 2-year-old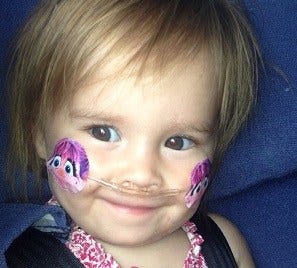 Posted By: Camila Orti
After spending 45 days in the hospital, a rare lung disease claimed the life of a Lincoln toddler. Now, her parents are reaching out to help other families in similar situations.
On August 27th, 2-year-old Isabel Haifley died in Houston where she was waiting for a lung transplant.
"It was truly a shock and it was hard to grasp," Mother Kendra Haifley said.
Kendra and her husband Damon say Isabel been fighting a rare undiagnosed interstitial lung disease for the past several months. In fact, her battle earned her the nickname "warrior princess."
"She perplexed the doctors the whole time, nobody knew what she had, we did every test there is out there," Kendra said.
The Haifley's spent 45 days at the Omaha Children's Hospital in the intensive care unit, where Isabel was put on a heart catheter and breathing device.
"Even when they had her sedated she would be mouthing I love you mommy, I love you daddy, I love you brother," Kendra said.
The family says they're trying to stay positive, but it hasn't been easy.
"It's hard to still accept that I'm not able to run upstairs, wake her up from her nap or hear her laughing," Damon said.
It's that laughing, bubbly toddler that friends and family are remembering. Organizers say Saturday's event raised more than $15,000 in donations to help the Haifley's with medical expenses. But that's not all the money will be used for. Kendra and Damon are launching the Warrior Princess Foundation in honor of Isabel. They say the goal is to be a resource for parents with kids diagnosed with rare diseases.
"We want to make sure that everyone knows that there are people out there that are willing to help them and we want to be that for them," Kendra said.
Plus, Kendra and Damon say they want to be advocates for blood and organ donations- two things their daughter's treatment depended on.
Isabel also leaves behind her 6-year-old brother, Roman.
The foundation's website isn't quite finished, but in the mean time, more information on Isabel and the family's efforts can be found on their Facebook page.