Remembering a fallen Marine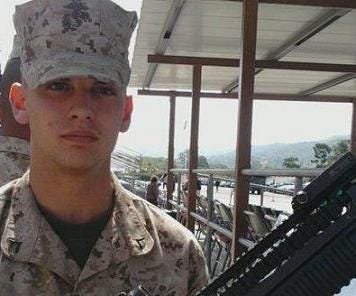 By: Megan Palera
mpalera@klkntv.com
It was a sea of red, white and blue. Flags of all sizes surrounding St. Joseph's Catholic Church.
Everyone in York coming out to honor fallen Marine, Lance Corporal Hunter "H. D." Hogan. The 21-year-old was killed in action last month while serving in Afghanistan.
He loved the Marine Corp, his family and rodeo. So today, his casket was lifted onto a wagon and lead by a group of rodeo horses that came from all over the country. His cowboy boots and hat riding behind him.
"This man died for us. I'd have been here no matter where it was," said family friend, Terry Powell.
It was an emotional day for family and friends. Many tears as his wife of less than two years was presented with the American flag. Hogan could have gone on to take part in college rodeo, but instead he wanted to serve his country for four years.
He had less than a month left to go.
After the burial, his grandfather, Jim Hogan, read us a statement written by the family. "We as a family and friends of H. D. have all suffered a tremendous blow with the loss of an amazing young hero. He was all about the three F's: family, friends and fun with an emphasis on fun. He lived life to 110 percent. Hunter "H. D." Hogan, fearless and brave. Man he sure could cowboy," said Jim Hogan.
On July 20th and 21st, a memorial bull ride will be held at the motor speedway in McCool Junction. Hunter's family plans to use the donations from that event to set up a scholarship fund for rodeo kids.