Rollover crash sends two to hospital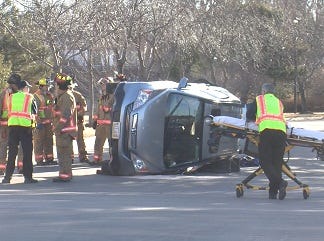 Posted By: Channel 8 Newsroom
8@klkntv.com
A two-vehicle accident in south Lincoln sent two people to the hospital Saturday morning.
Lincoln Police say it happened around 9:30 a.m. near S 70th and Stevens Ridge Rd. Officials say an SUV turned in front of a white car traveling northbound on 70th. The SUV was turning left onto Stevens Ridge Road when the white car struck it, causing the SUV to roll onto its side.
Lincoln Fire & Rescue officials say the two passengers in the SUV were able to get themselves out of the vehicle, and were transported to Bryan West with minor injuries. The driver of the white vehicle was not injured.
The accident shut down northbound lanes of S 70th Street in that area.