Rosters for Red-White Spring Game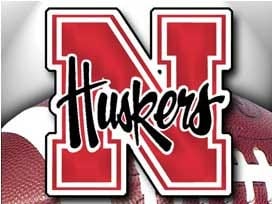 Posted By: Sports
The rosters for Saturday's Red-White Spring game have been finalized by the Nebraska coaching staff.
Saturday's game is set for a 1 p.m. kickoff with a live stream available at BTN.com. The game will be televised on a tape-delayed basis at 9:30 p.m. Saturday night on BTN. The Husker Sports Network will provide radio coverage of the game, beginning with a pregame show at 11 a.m. The broadcast can also be heard worldwide at Huskers.com.
The rosters for Saturday's game are below.
Red Numerical Roster
No. Name, Pos.
3 ** Taylor Martinez, QB
3 * Daimion Stafford, S
5 * Braylon Heard, CB
5 * Josh Mitchell, CB
6 * Corey Cooper, S
6 *** Tim Marlowe, WR
7 Taariq Allen, WR
8 * Ameer Abdullah, IB
9 ** Jason Ankrah, DE
11 * Andrew Green, CB
12 Ron Kellogg III, QB
12 *** Courtney Osborne, S
13 Daniel Davie, CB
14 Bronson Marsh, QB
16 * Stanley Jean-Baptiste, CB
22 Derek Slaughter, LB
24 Austin Williams, LB
26 Anthony Ridder, CB
26 Tyler Wullenwaber, WR
29 Seth Jameson, CB
30 Derek Foster, CB
30 Richard Wynne Jr, WR
31 *** Jase Dean, CB
31 * C.J. Zimmerer, FB
36 Eddie Ridder, TE
38 *** Graham Stoddard, FB
40 Max Pirman, LB
41 * Jake Long, TE
41 David Santos, LB
44 Micah Kreikemeier, LB
46 Sam Burtch, WR
46 *** Eric Martin, DE
51 *** Will Compton, LB
53 Adam Kucera, OL
55 *** Baker Steinkuhler, DT
61 * Spencer Long, OL
61 Jeff Uher, DT
62 ** Cole Pensick, OL
66 Givens Price, OL
67 Scott Criss, OL
69 Brodrick Nickens, OL
71 * Jeremiah Sirles, OL
74 Mike Moudy, OL
75 Chris Long, OL
76 ** Brent Qvale, OL
80 * Kenny Bell, WR
81 *** Ben Cotton, TE
91 Donovan Vestal, DE
92 *** P.J. Mangieri, LS
95 Michael Ziola, PK
96 ** Brett Maher, P/PK
98 David Sutton, TE
99 * Jay Guy, DT
White Numerical Roster
No. Name, Pos.
1 * Harvey Jackson, S
2 *** Antonio Bell, CB
2 * Aaron Green, IB
4 Mohammed Seisay, CB
7 * Joseph Carter, DE
10 * Jamal Turner, WR
10 * Dijon Washington, S
13 *** P.J. Smith, S
14 Bronson Marsh, QB
15 * Brion Carnes, QB
17 ** Ciante Evans, CB
18 ** Quincy Enunwa, WR
19 Mike Marrow, FB
19 * Wil Richards, SPJ
21 * Steven Osborne, WR
22 *** Rex Burkhead, IB
23 Yusef Wade, CB
25 Joey Felici, CB
25 *** Kyler Reed, TE
32 Greg Milliken, CB
34 *** Cameron Meredith, DE
37 * Mauro Bondi, PK
39 *** Justin Blatchford, S
42 ** Sean Fisher, LB
43 * Trevor Roach, LB
45 ** Alonzo Whaley, LB
47 Walker Ashburn, DE
48 Tobi Okuyemi, DT
49 Matt Manninger, LB
51 Brandon Chapek, OL
52 Ryan Klachko, OL
52 J.C. Moore, DL
54 Aaron Hayes, OL
56 Mark Pelini, OL
57 Zach Sterup, OL
59 Colby Starkebaum, LB
63 ** Andrew Rodriguez, OL
65 Ryne Reeves, OL
70 Kenny Anderson, DT
70 Nick Ash, OL
72 * Justin Jackson, OL
73 * Tyler Moore, OL
77 * Seung Hoon Choi, OL
85 * KC Hyland, WR
87 Taylor Dixon, WR
89 Conor McDermott, TE
95 Jack Gangwish, LB
97 Joseph Rotherham, LS
98 David Sutton, TE
Will Not Play
9 Tyson Broekemeier, QB
24 Murat Kuzu, RB
40 Zach Taylor, IB
53 ** Thaddeus Randle, DT
57 Todd Peat Jr., DT
59 Will Sailors, OL
68 * Jake Cotton, OL
79 ** Brandon Thompson, OL
82 Robert Barry, TE
88 * Tyler Evans, WR
92 Kevin Williams, DT
97 * Chase Rome, DT