Runner stops in Lincoln on coast to coast journey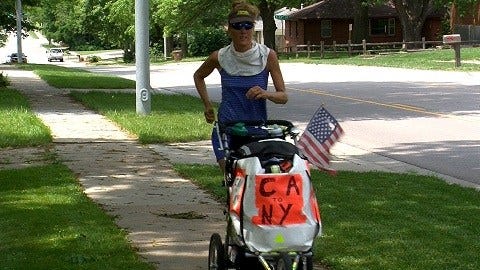 By: Jenn Schanz
jschanz@klkntv.com
A New Hampshire woman is hitting the pavement for a good cause. She's running from coast to coast, and today she stopped in Lincoln.
"I started wondering, 'I wonder if I can run across the country," says Jessica Goldman.
She rode her bike across the US. in 1999 and decided to take it up a notch this year, and go on foot. She's raising money for the Brain Injury Association along the way.
The nearly 3,000 mile journey is all green too. Jessica's pushing a jogging stroller that's got camping supplies, food, water, and even a solar panel to charge her phone.
She says community support is a big motivator.
"The last two days I've had some runners from the Lincoln area just follow me on the tracking map and show up and run with me which was awesome," she says.
Jessica's raised around $6,000 dollars so far. Her goal is $ 15,750.
To track Jessica's progress, or to donate, click here: http://biausa.donorpages.com/ForwardMotion/JessicaGoldman/