Running with the Joneses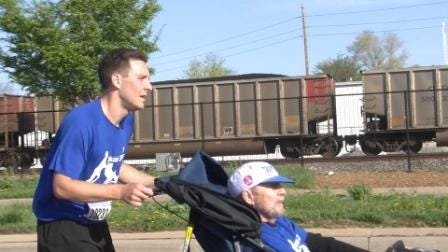 By: Lauren Fabrizi
lfabrizi@klkntv.com
The 37th annual Lincoln Marathon was no match for John Jones and his grandfather.
But after his grandpa, John Jones, suffered a bad stroke a few years back, the long–time running partners didn't think the race Sunday would ever become a reality.
"I never thought we'd run together again," Jones said. "But now we could just finish with one of the hardest races there is."
The 21-year-old Wesleyan University junior made it happen by pushing his grandpa in a carriage as he pounded 26.2 miles of pavement, all because he said he couldn't imagine completing a marathon without his running partner by his side.
"There's just so many awesome people along the whole way cheering me on," Jones said. "It was just sweet to see people I never even met know my name."
Family and friends eagerly awaited the pair's arrival at Memorial Stadium. Although Jones said it wasn't easy, he said all that mattered as he and his grandpa crossed the finish line was that they did it together, just like old times.
"This is awesome and his ability to push is almost unbelievable," Jones' grandpa said.
"Time didn't matter, nothing mattered, my legs hurt, that didn't matter," Jones said, catching his breath after the race. "Because we finished, and that's the only I thing I wanted to accomplish."
Jones clocked in at 3:48:29.