Ruth Hill School Hoops For Hearts fundraiser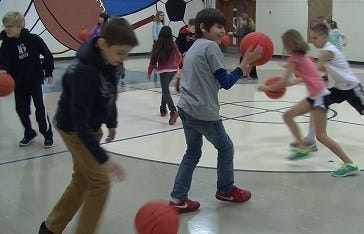 Posted By: Nolan Crane
Students at Ruth Hill Elementary School in Lincoln are raising hundreds of dollars for the American Heart Association by playing basketball.
Here's Thursday, February 26ths "Excellence in Education."
Hoops for hearts is an annual fundraiser where students of all ages and skill levels come together to play basketball. On the court they play against each other, but in this game everyone's a winner. Students raise money by getting people to make pledges for their participation.
"I love basketball because it's really fun to run around and shoot baskets and play against other people," says Blake Johnson.
"I've raised $147 for this event and I kind of thought of it as if they were my family member, I'd want to help them so I'm going to try to help other people even if they aren't related to me," says Emily SoWel.
"Last year we did raise $300 and we've surpassed that already this year. Our goal is to raise at least $1,500 for this group," says Scott Rice.
The fundraiser ends tomorrow. If you want more information to learn how to donate and help these kids reach their goal visit http://www.heart.org/HEARTORG/Giving/ForIndividuals/JoinanEvent/hoops-sub-home_UCM_315630_SubHomePage.jsp