Sally Gordon to retire from Legislature next week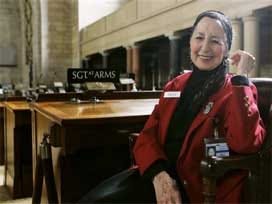 Sally Gordon, a fixture in the Nebraska Capitol, will retire next week as the Legislature's assistant sergeant-at-arms. The 102-year-old Gordon says she wants to enjoy retirement while she's still young.
The sergeant-at-arms helps with the day-to-day operations of the Legislature, passing messages to senators on the floor and keeping order in the legislative chamber and hearing rooms. Gordon has been doing that since 1984, but she has also worked as secretary for three Nebraska governors and as a model.
During the legislative session, she walks the seven blocks to the Capitol from her home every day unless there's snow. Gordon was honored as America's Outstanding Oldest Worker for 2010.