Salt Creek nears flood stage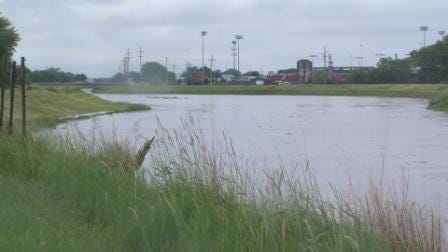 Posted By: Lauren Fabrizi
lfabrizi@klkntv.com
Another dose of mother nature left a number of roads in Lincoln and Lancaster County flooded Thursday morning.
Last month, Rick Britt was part of the mandatory evacuation in the North Bottoms neighborhood. But he's staying calm this time around.
"I'm not really nervous," Britt said. "But for the older people, I'm nervous about some that have less mobility than I do."
Water has receded on several roads, but that water is flowing into Salt Creek. It peaked at 19 feet around 3 p.m., which is one foot away from flood stage. As of 5 p.m., it was at 18 feet.
Last month's heavy rains pushed the creek well past that, backing up the Teresa Street Waste Water Plant. It surpassed its capacity of 90 million gallons. Workers had to bypass treatment of a small portion of that waste water before letting it flow back into Salt Creek.
Thankfully, that wasn't the case Thursday as the plant peaked at about 80 million gallons.
"Treatment plant is working well, both plants are working well," Steve Crisler, superintendent of Water Pollution & Control, said. "System levels are going well now and we don't anticipate any backup or issues."
Crisler hopes any anticipated rain holds off, so Salt Creek levels fall back down.
But if it does rain again, Britt from the North Bottoms has a plan.
"I've got an 11-foot ramp with ores and stuff," he said laughing.
Lower Platte South Natural Resources District officials will continue to monitor Salt Creek levels throughout the night.