Saltdogs celebrate deaf and hard of hearing community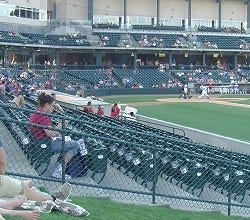 By: Bill Schammert
bschammert@klkntv.com
For must of us, a night at the ballpark means the sights, the smells and the sounds of a baseball game. That's not true for everyone. Monday night, the Lincoln Saltdogs hosted "Deaf and Hard of Hearing Awareness Night." Dozens of hearing-impaired fans made their way to Haymarket Park for the first event of its kind hosted by the organization.
"Baseball is fun because it's all action," Mike Brummer said through an interpreter. "You can watch the action and really be involved in the game."
Brummer is the board chairperson for the Nebraska Commission for the Deaf and Hard of Hearing. He says it's important to raise awareness that there are many community members who are hard of hearing and they need support.
Glove in hand, Brad Pulcifer made his way to Haymarket Park with his dad for his first Saltdogs game. Deaf, he knows he misses out on some aspects of the game, but that doesn't make him any less of a fan.
"I love when they bat," he said through an interpreter. "The ball can go really high and far. It's all the action, it's just really interesting."
And on a night like this, Pulcifer feels even more a part of the game.
"Just being able to chat and talk with other deaf people, it's a lot of fun," he said.
Monday night's game featured several events to give the average fan a glimpse into what its like to watch a game as a hearing-impaired person. The national anthem was signed by interpreter Peggy Williams and the fourth inning was silent, with no P.A. announcer and no organ. Saltdogs President Charlie Meyer, who has two deaf parents, even signed a welcome message that aired on the outfield board before the start of the game.