Saltdogs take two from the T-Bones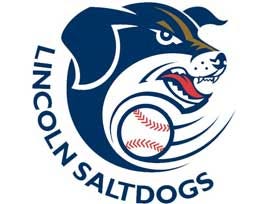 The Lincoln Saltdogs booked two wins Wednesday, as they came back to beat Kansas City 4-3 in walk-off fashion to complete a previously suspended contest, and then held off a late charge to topple the T-Bones 6-4 in front of 4,926 fans at Haymarket Park.
The Saltdogs' home opener was suspended Tuesday night in the middle of the seventh inning after a nearly hour-long rain delay. Trailing 3-1 as play resumed Wednesday morning, Lincoln scored a run in the bottom of the eighth and two more in the last of the ninth to win their home opener.
Blake Gailen hit a sacrifice fly to right field to tie the game at 3-3 before Maikel Jova delivered a ground ball single to left, scoring pinch runner Vance Albitz for the win.
Albitz pinch ran for Jon Nelson, who came through with a pinch-hit single in his first at-bat since getting hit in the face by a pitch in Grand Prairie last Monday night.
Nick Schreiber (1-0) pitched two scoreless innings, allowing just one hit to earn the win. T-Bones closer Andy Shipman allowed two runs on four hits in 2/3 of an inning to blow the save and take the loss.
In game two, Lindsay Gulin tossed eight strong innings to lead Lincoln to a 6-4 victory. Gulin (1-3) allowed four runs on 11 hits, striking out three to pick up the win.
The Dogs scored the first six runs of the ballgame, before Kansas City climbed back with the game's final four tallied to make it close. Saltdogs closer PJ Zocchi loaded the bases in the top of the ninth before inducing a ground ball to end the game and notch his fourth save.
T.J. Large (1-2) suffered the loss for the T-Bones, allowing six runs – three earned – on eight hits in six innings.
Jova and Curt Smith led Lincoln offensively in game two, producing two hits each.
The Saltdogs go for the sweep Thursday night at 7:05 p.m. John James (2-0) is expected to toe the slab for Lincoln against Reid Santos (1-1) for Kansas City. Radio coverage begins at 6:35 p.m. on KFOR 1240.