Same-Sex Rally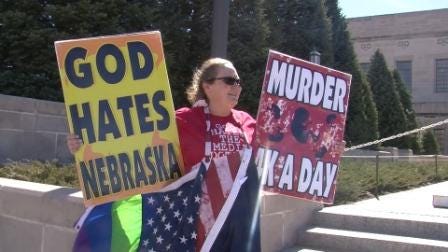 A group of protesters came to Nebraska today to rally against policies regarding same–sex couples in the state. The group, from Westboro church in Kansas says one of their biggest concerns is same–sex couples being allowed to become foster parents.
"This nation is still responsible to God to have proper, righteous policies. Righteousness exalts a nation. But sin is a reproach to any people," said Shirley Phelps-Roper with the Westboro group.
The group's first stop today was at Doane College, in response to an article posted to the school's online newspaper toting equal rights for all. Students stood by their "inclusion" theme today by chalking sidewalks and making t–shirts that read "Doane is love".
Brittany Reppert, President of the Queer–Straight Alliance on campus says she's impressed by the turn out. "I think it's really important that everybody knows that Doane supports equal rights, even though other people in the world are willing to protest that it's a wrong thing to do."
The Westboro group then traveled to the Capitol building in Lincoln for more protests against same–sex foster parenting.
Heather Kumpula, a foster parent in attendance, who isn't gay, says people should be allowed to take in children no matter their sexual orientation.
"The main focus of becoming a foster parent is for the children and the children only. I personally know several couples that would make amazing parents, but were held back by the past law. This is awesome for the children," said Kumpula.