SCC welding students create Lincoln's "Big Apple"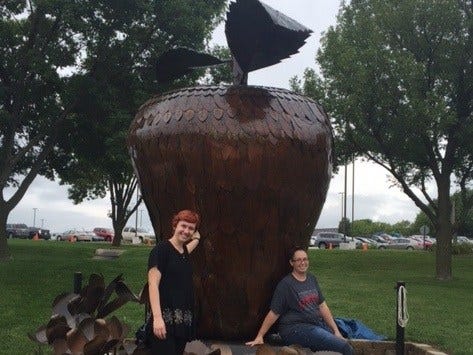 POSTED BY: Channel 8 Eyewitness News
8@klkntv.com
News Release: A pair of SCC students create Lincoln's own 'Big Apple'
(Lincoln, NE) A giant metal apple is the latest fixture at Southeast Community College's Lincoln campus. The apple is titled "Potential", and is the creation of two welding students selected by faculty to come up with a unique sculpture for the college.
"We are proud of it. It was an idea we came up with and created. It's like our baby," said Porsche Johnson, who along with Courtney Cuddeford started the project in the fall of 2015.
The two female students were selected by Mark Hawkins, co-chair of the welding department. They were chosen because of their skills in his Fabrication and Repair class. With their talent, he knew they could complete the task.
"The size is spectacular," said Hawkins about the 13-foot tall, 1200-pound sculpture. "The public has never seen a sculpture built like that before."
The two students and Hawkins collaborated about the idea of the apple, representing education, and the flowers surrounding it, representing growth. The sculpture was created in their Fabrication and Repair class.
Cuddeford and Johnson bonded right away at SCC as they were the only females in the welding department at the time. They said women shouldn't be afraid to try a career like welding, because there are so many different opportunities.
"I want people to see this sculpture and know it was created by a woman," Cuddeford said. "You can be more than just a stereotype. Dreams can actually happen."
Johnson, 35, decided to attend SCC and take welding classes because it was something she always wanted to do. She will graduate in 2017. Cuddeford, 20, attended SCC after high school and worked full time as a welder and is now selling her sculptures. She sold one to a restaurant in the Haymarket.
"Just go in there and own it," Cuddeford said about her experiences in a traditionally male-dominated profession. "I'm here to do something and I wasn't intimidated by boys."
Johnson hopes her son will be proud of what she's accomplished. "I want my kid to say, 'my mom made that' and then other kids can go to SCC and do it too," Johnson added.
Hawkins hopes to have students build more abstract art pieces for the campus in future welding courses. He said the value of the apple sculpture is probably around $20,000. Less than $3,500 was actually spent on the materials to make it.