School lunch prices expected to rise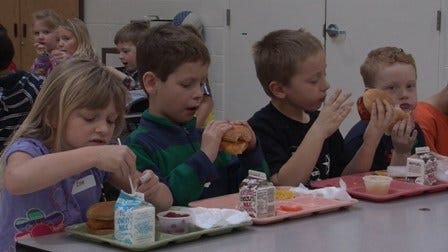 By: Hannah Paczkowski
hpaczkowski@klkntv.com
Starting next Fall, kids paying full price for their lunches are going to be paying a little more.
"It gets quite expensive," Kim Cunningham said.
Cunningham has six kids at home, many of them are paying full price for their lunches at Lincoln Public Schools.
"I let them pick a hot lunch, but usually every day I make them a lunch," she said.
Now, getting hot lunch at school is going to cost an extra 10 cents per meal. Right now, full price lunches cost $2.25 for elementary, $2.45 for middle, and $2.60 for high school. That can add up, especially with more than one child in the school system.
Lincoln Public Schools said there's nothing they can do about it. To keep federal funding, they have to raise prices to be in compliance with the federal government.
"We've never let a kid go hungry, so if mom and dad have trouble, call and we'll see what we can do to help you out," LPS finance committee chair Kathy Danek said.
Free and reduced lunches will stay the same.
"Those are one of the things that should probably stay around the same price because I know a lot of people have a hard time paying for it," Erin James said.
For some families, it might be easier to pack their lunch rather than paying the school, which is exactly what Cunningham does for her daughters.
"I make my girls' lunches every day. I know exactly what they're eating and they like it," she said.