Science Fair Champion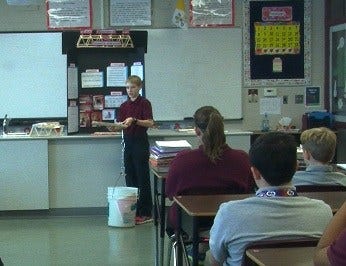 Posted By: Nolan Crane
ncrane@klkntv.com
Seventh and eighth graders at North American Martyrs School here in Lincoln had their annual Science Fair. For the second year in a row the same student took home the first place trophy. Here's tonight's "Excellence in Education" report.
Eighth grader Max Doty got in front of his classmates today and described his winning science fair project. He analyzed and research different types of bridges to determine which style is the most efficient.
Using popsicle sticks he found out this triangle structure known as a Warren Truss Bridge distributes the weight the best, making it the safest. His teacher says that's not all he learned.
"You really have to think to decide what you want to do. What your experimental plan and abstract and everything," says Max Doty.
"How to research a topic, they learn about variables, they learn just to think in a different way about everyday questions that they have and topics that interest them," says Amy Beying.
Max says when he grows up he wants to study civil engineering and become an architect. He hopes to build real bridges like the ones he studied.