Scott Frost confident in message while recruiting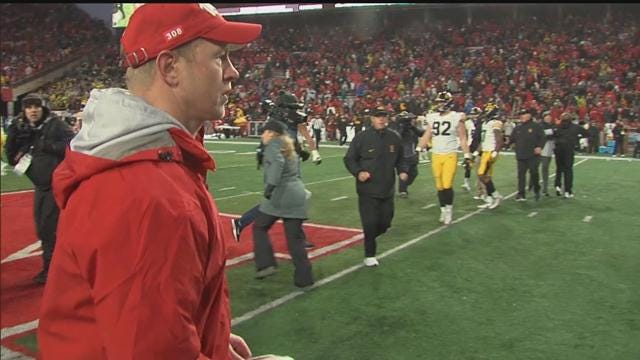 During a mad scramble before the early signing period in college football, Scott Frost's message to recruits is simple.
"Just that it's coming," Frost said following the Huskers loss to Iowa last Friday. "We all know it's coming. The guys in the locker room know it's coming, the coaches know it's coming. There's no timetable for it. Sometimes it happens quicker than you think, sometimes it takes a little longer. I know we're doing the right things and getting the right guys in here, developing guys the right way, and it's coming. I think people recognize that, and we'll make sure the recruits recognize that too."
Senior Lamar Jackson echoed those words when he finished his final game at Nebraska against the Hawkeyes.
"You have to take his word for it, I mean at the end of the day, he tells us the same message," Jackson said. "But we feel it, we practice, we put the work in, we sweat, we feel it. It isn't like coach is just saying and talking like 'what is coach talking about,' we feel it, we're close, and we lose games, we're close. We just lost by a kick, the defense played lights out, we just lost by a kick.
"You should see it, we're close, you have to believe it, you have to see it, you have to feel where everybody is coming from, including the coaches. We're all one body and we all believe our coaches and we all believe in each other. These last couple of weeks, coach has been saying 'get on somebody's ass.' Ever since then, I've never had more fun. Spontaneous celebrations, one of the best feelings in football, I've never had more fun, I truly loved it. We pretty much found the formula. It isn't just get serious, be quiet, it's love each other, it's have fun. Enjoy everything you do, do it with a purpose. As long as we keep that rolling through the offseason, this thing is going to get flipped faster than anybody can expect. I have all respect and I have all confidence that it's going to happen."