Sculptor unveils statue of fallen Sheriff's deputy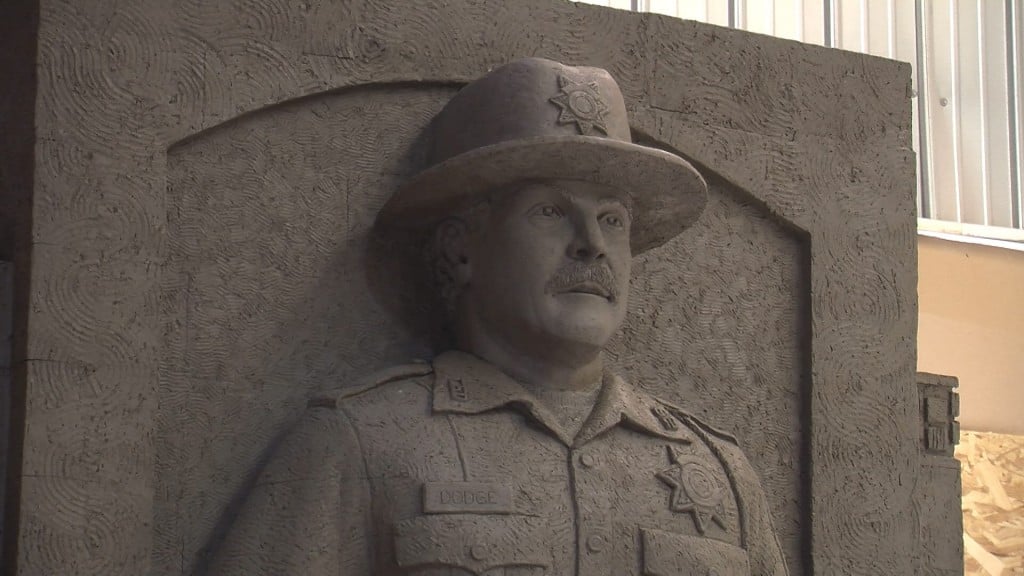 By: Ashley Harding
Sheriff's deputy Craig Dodge was killed in the line of duty 25 years ago. We now get a first look at the memorial statue built in his honor.
Standing more than 7 feet tall and carrying the weight of more than 200 bricks, Lancaster County Sheriff's officials are proud to see the memorial statue of Deputy Craig Dodge. He was shot and killed in the line of duty 25 years ago.
"Kind of opens your eyes to the service that they give to us, everyday that they go to work," said Sten Eisentrager, the statue's sculptor.
In March 1987, Deputy Dodge was responding to a call at an apartment complex near 4th and Main streets in Hickman. A man was threatening to kill his wife and children, but instead shot Dodge. The site where he died is now being turned into the Craig Dodge Memorial Park, where his statue will stand. The project was first put into motion by Deputy Drew Bolzer 5 years ago.Even though he never knew Deputy Dodge, he felt a memorial was the right thing to do.
"We're all brothers in this job. I kind of went into it knowing that, maybe if something were to happen to me someday…in 25 years, 2 years, or 50 years afterwards, one of my brothers would preserve a spot for me," said Bolzer.
The memorial park project has been funded entirely through donations, but officials say they're still about $15,000 short. Their hope is that others will step forward to ensure the project is completed and a fallen hero is remembered. His widow, Barbara, says he's missed every day.
"I wonder sometimes what our lives would be like if he was still here. He missed so much. And we missed so much by not having him be a part of our lives," said Barbara Dodge.
The man who killed dodge is serving life in prison. Later this week, the sculpture will be taken to the memorial site and re–laid. A dedication ceremony is planned for next year.
For information on how you can donate, call the Sheriff's office at: 402-441-6500.