Search continues for a missing UNL Student's Body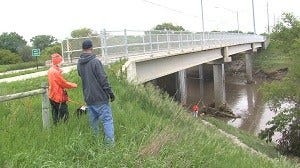 Posted By: Marlenia Thornton
Crews are still hard at work trying to find the body of missing University of Nebraska-Lincoln student Anwesha Dey.
The U.S. Search, Rescue and Recovery team continued its efforts along Salt Creek Tuesday.
A less little than a half dozen crew members began looking near 40th and Superior and kept along the banks for about a mile north.
"We have a couple of our members who brought a boat today and they've put it down in salt creek and checking the banks of it," U.S. ATV Search and Rescue Team Member Brian Ehmke said.
The Omaha– based volunteer team also used an atv and two canines to help with the search. This comes after local agencies tried to recover Dey's body, who has been missing for more than two weeks now.
Authorities believe she fell into Antelope Creek near 22nd and "S" on her way back to campus.
They say she didn't know how to swim and the flooding weeks ago swept away her body.
Crews didn't know how far they'd look Tuesday afternoon, but believed they'd stop around 4 p.m.
"We may go back down the other side of the creek or we have to just regroup to see where we are at," Ehmke said.
Unfortunately, they were not able to find her body just yet. The team says they'll keep at it as long as it's needed–keeping this one goal in mind.
"The goal is hopefully to find her and give the family some closure that she has been found. That's what we're hoping," Ehmke said.
The team says the weather has been one of the biggest factors affecting its search efforts.
Members believe they'll keep searching if the weather permits.