Second levee holding in Hamburg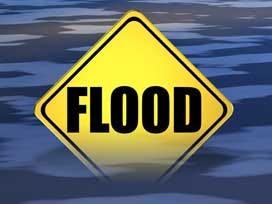 People in the small Iowa town of Hamburg are hoping the mighty Missouri will be held off by their secondary levee. Floodwaters have reached the new levee that serves as the last line of defense for the southwest town of Hamburg. Some have packed up and left, while other business owners stay, hoping the levee will hold.
The little town of Hamburg is making big news across the nation. Everyone is watching to see if it gets swallowed up by the massive Missouri river. We were one of only a few journalists allowed to go up on town's man made levee.
For now, it's their last hope. It's bad news for the small town of Hamburg, water reached their levee late Wednesday night, as crews continue to pack dirt and sand bags onto their last line of defense. Several farms in the area have already gone under; Steve Adkins says he's worried his is next.
"Everything looked great I just sprayed the last of it I went ahead and sprayed it because I figure when it goes under I want it to look pretty because it's going to go under I'm quite certain," Adkins said.
Officials say they're confident the 8 foot wall will hold and prevent water from rushing into town. And for local bar owner Vicki Sjulin she hopes they're right.
"We've just got to be hopeful that it's going to be enough to save the town because frankly if it doesn't I really don't know," Sjulin said.
Some in Hamburg have already packed up and moved out-and businesses are bracing as well-lining sandbags up as a last resort hoping the mighty Missouri doesn't make it past their mighty wall.
"I just hope this town survives this a lot of people have moved out and if we don't get them to come back it's going to be really hard on the town," Adkins said.
Late word that the water is now about 5 feet up on the man made levee. Remember it's about 8 feet tall and some emergency officials say the worst is yet to come. So, we'll have to see if it's tall enough.. And whether it's strong enough to hold back the water