Sticking to your New Year's resolutions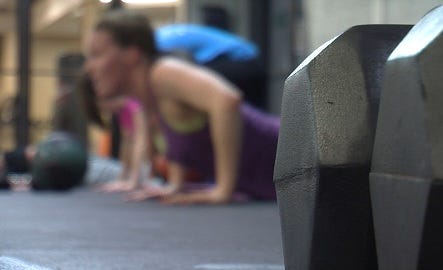 By: Cole Miller
cmiller@klkntv.com
When it comes to those New Year's resolutions, sticking to them may be the toughest part. Looking and feeling better usually top the list.
Steve Auxier knows how to pump up a crowd. The owner of Good Life Fitness says with the start of a new year, business begins to boom.
"It's a lot about refocusing on their goals and really trying to take that first initiative in improving their health," Auxier said.
First things first, it's all about setting that goal.
"If you don't know what you're striving for, how are you going to know how to get there?" Michaele Kujath asked.
That's how she says she changed her life, by setting small goals. Kujath also credits a friendship with Julie Harder, who has a made quite the transformation herself.
"My thing is I don't weigh myself, but I've dropped half the size of what I used to be," Harder said.
All this hustle and bustle however is often times short lived. While the gym may look busy this month and next month, Auxier said when March rolls around, about 65% of those New Year's resolutions go out the door.
"People will start to lose focus at that time on their fitness, their goals, their journey," Auxier said.
That's exactly what these ladies call it…a journey. They say it's something that takes work, and lots of it.
"You just have to think one day at a time and if you make it through that day, doing the right thing, you've done a great job," Kujath said. "If you don't, you have to get back in that wagon or you're just going to spill out and turn and get burnt."
Harder echoed her thoughts.
"You don't change you body for the worst overnight and you can't change it for the better overnight," Harder said. "It is a lifestyle commitment."
Both ladies tell us at the beginning of their journey, that even walking was difficult. Now, they can both run and Harder just completed her first half marathon.