Security at an all time high for the Popes latest destination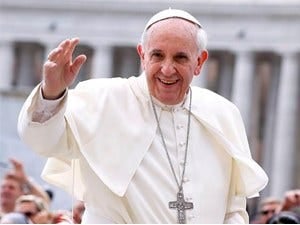 Posted By: KLKN Newsroom
8@klkntv.com
The Pope arrived in Philadelphia Saturday morning from New York and he was a little late, maybe that's why the crowds were slow to build, but they eventually got there or maybe it took so long because of the intense security measures being taken.
What are the security check points for the Pope like? Think airport security on steroids.
"I feel very safe and I don't feel like it's too much. I don't think it could ever be too much. I think we all worry constantly but I want them to keep my Pope safe," Arlene Peters said.
Several checkpoint check ins are up all over the main area of the Pope's visit and once you're in you're in, but it can be a slow process even for some young ladies.
Erin and Liv of the Philadelphia Archdiocese Choir, sang for the Pope this morning at the Cathedral of Saints Peter and Paul. Even they were checked head to toe, at 5 in the morning.
"The security was like really high," Erin and Liv said. John asked "For the choir?" "Yeah" "For you guys?" "Yeah!"
The only way to see the pope is to walk in and take an approved bus or the train.
In terms of security personnel there are snipers, state troopers, secret service, TSA, K 9 units, Philadelphia police, National Guard and U.S. Customs.
This may be the safest place in the U.S. right now.
About 94 individuals from the Lincoln Diocese made their way into the city late this afternoon. They've been on buses or trains and like everyone else, their on foot trying to make it through the security check point.
But a lot of excitement and enthusiasm from these folks, who so far have really enjoyed just how welcoming Philadelphia has been.
"The trip has been going great we have been having a great time everybody has been inspired by the message we've received so far," said Father Matthew Eickhoff of the Lincoln Diocese.
"It's awesome the diocese of Lincoln is who we are with and we're all very very excited to see the Pope and were so thankful to be in this great city of Philadelphia the city of brotherly love," said Paula Parmelee who traveled with the Lincoln Diocese.
Those individuals were off pretty quickly to get as close to the stage a possible for tonights prayer vigil.
Coming up tonight at ten, we'll hear what it's like for these pilgrims to be welcomed into the homes of complete strangers, who are their host families.