Update: Minor damage to bridge after semi-truck gets stuck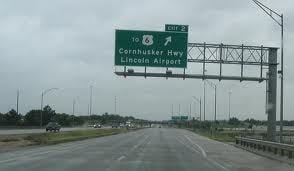 By: Megan Palera
mpalera@klkntv.com
It's something you don't see everyday – a semi-truck gets stuck under a bridge.
It happened Thursday morning at the 14th Street bridge that runs over Cornhusker Highway. The semi was hauling a damaged railcar to the Burlington Rail yard in Havelock.
With just a few more inches to spare, the semi would have made the 15 foot clearance.
"There was another one in front of him and they made it just barely and so he thought he was gonna be able to make it under as well," LPD Officer Ed Simpson said.
The Nebraska Department of Roads say the driver didn't follow his safe route that directed him in the interstate and away from obstacles. NDOR was called in to assess any damage to the bridge because it's state property.
"They have engineers and stuff that'll come out and look at the bridge and decide whether or not they think there's any damage. Best guess right now, probably not," Simpson said.
It took almost two hours before the semi was finally removed. Luckily, damage to the bridge was minor – just a few scratches.
Posted By: KLKN Newsroom
8@klkntv.com
Eastbound lanes of Cornhusker Highway is backed up due to a semi-trailer stuck under a bridge.
Lincoln Public Works says the semi is hauling a railcar on a flatbed. It is wedged under the 14th Street bridge. Traffic is down to one lane eastbound on Cornhusker. There are no other details at this time. We have a reporter at the scene.