Senator Bill Kintner Resigns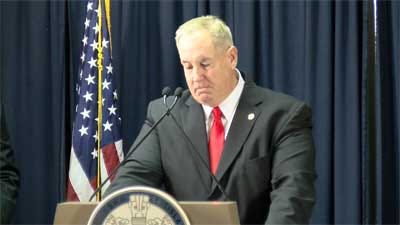 By: Channel 8 Eyewitness Newsroom
8@klkntv.com
UPDATE:
"This is not about justice or doing what's right," said Sen. Bill Kintner as he resigned Wednesday morning. "This is the old adage that might makes right. You have the votes, you can do what you want."
Senator Bill Kintner went down fighting when he announced his resignation from the Nebraska state legislatures. He used a state computer in a 2015 cybersex scandal, and just this week, he retweeted a post critical to some women who took part in the Women's March.
"I hesitate to resign as I know that my resignation will be hailed as a victory to the progressive liberal movement," he said.
He resigned, facing a resolution by his colleagues to expel him from the legislature if he didn't.
"This is not about conservative values or liberal values," said Sen. Adam Morfeld. "It's about doing what's right; doing what's best for the state and allowing the legislature to move on from some of the actions he was found guilty of and some of the things he's said in the public sphere that are very concerning."
Kintner initially responded to calls for his resignation by claiming they were an attempt by progressive liberals to get his conservative voice out of the legislature, but even Kintner's more conservative colleagues say it was time for him to go.
"His continuing tweets and such became a distraction from what the people of Nebraska sent us here to do," said Sen. Jim Smith, also from Papillion.
Speaker Jim Scheer agreed that Kintner's resignation was in the legislature's best interest.
"It makes it easier for the body to move forward without having a contentious argument over the expulsion of a member," he said.
Kintner was on the appropriations committee responsible for helping with this year's enormous budget shortfall, and Sen. Craighead with the committee for committees says as soon as possible they will have to fill his seat.
"To paraphrase Richard Nixon," Kintner said in his closing comments, "You won't have Bill Kintner to kick around anymore."
____________________________________________
Breaking News from the State Capital Senator Bill Kintner of Papillion has resigned.
He made the announcement a little after 8 Wednesday morning during a special news conference.
As we have reported all week, several fellow lawmakers asked for his resignation and threatened to expel him after retweeting controversial comments from this past weekends Women's March.
We'll have more details coming up at 11 on our midday show.