Senator wants meningitis vaccine requirement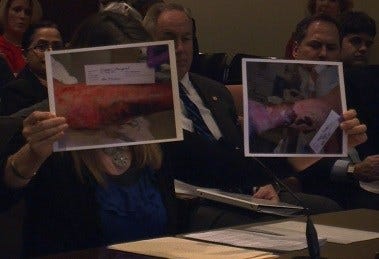 Posted By: Jenn Hatcher
jhatcher@klkntv.com
Meningococcal meningitis is a rare disease but every year, takes lives in the US.
There was emotional testimony at the capitol Tuesday afternoon, as one senator shared why he think the meningitis vaccine should be required for Nebraska's children.
Mother of four, Maggi Pivovar is lucky to be alive. In 2007, she contracted the disease.
Pivovar says, "I was first given thirty minutes to live and then a 98% chance to die. I was in a coma for three weeks and because my infection was so severe and advanced so rapidly, there was little hope for me."
Meningococcal meningitis is a fast acting disease spread through coughing, sneezing or kissing. It inflames the lining around the brain and spinal cord and kills one in seven infected people. That's why state senator Bob Krist is pushing LB18, which would require the meningitis vaccine for 7th graders and a booster shot when they're in high school.
Krist says, "It is a tool that should be applied at a certain point of a child's life to protect them and the rest of us from this disease."
Tuesday, advocates presented their case to the education committee.
Andy Marso, who developed severe meningitis while in college, shared his story from his parent's point of view.
Marso says, "You have to explain to him that his limbs are rotting while still attached to his body and that he is going to have to have amputations to all four of his limbs."
Pivovar spent five years recovering and had both legs amputated.
She says prior to her medical miracle she didn't know there was a vaccine, but now wants everybody to know it's out there.
"I never want one of my children to come to me and say mom why didn't you protect me from this disease, even 1 child is 1 child to many," says Pivovar.
Marso adds, "This disease is rare, but it is devastating, it is not rare enough, we have the tools to basically eradicate is now."
No opponents were present at the hearing. The committee did state they've received some letters from people who fear the dangers of vaccines.
Krist of course urged the senators to advance the bill out of committee. There was no vote.