Senators to introduce package of bills with focus on veterans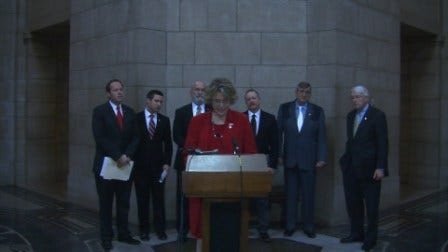 By: Lauren Fabrizi
lfabrizi@klkntv.com
A group of senators gathered at the State Capitol Wednesday morning to highlight several bills they'll introduce this legislative session focused on veterans and their families.
"We want military members who are retiring to see Nebraska as a place where they can come and have a second career," Sen. Sue Crawford of Bellevue said.
One of the bills, introduced by Sen. Crawford Wednesday, would allow tax exemption on a portion of veterans' pensions. Last session, similar legislation was passed, but for new veterans only.
"That's important to me to try and correct that, and improve that part of our policy," Crawford said.
Crawford introduced another bill that if signed into law, would legally permit private companies to hire veterans over others who are equally qualified.
Right now, nearly 6 percent of Nebraska veterans are jobless. To turn that statistic around, a bill put together by Sen. Jeremy Nordquist would allow for veteran on–the–job–training. The employer would be compensated.
"We know veterans bring unique abilities and experience to the civilian workforce," Sen. Nordquist of Omaha said. "And bring attributes that are hard to teach like loyalty, dedication."
Other senators who are war veterans, including Sens. Tommy Garret, Merv Riepe and David Schnoor, along with Sen. Adam Morfeld, will introduce bills. There's 8 total from Wednesday's group. There could be more from other lawmakers.
Private organizations are also plugging for veterans. Last year, an initiative called 'The Good Life for Veterans' was launched. It's impacted more than 1,000 vets and military members.
"Not a silver bullet," Jamie Karl of the Nebraska Chamber of Commerce said, referring to the program. "But it is part of the puzzle to solve the workforce problem."
"Already made some good progress on many veteran and military family issues," Crawford said. "But there's always room to improve."
The bills will have to go through a special committee before hitting the legislative floor. They'll then have to pass through three rounds before making their way to the governor.