Huskers taken in MLB Draft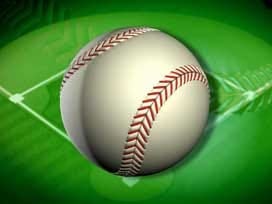 Posted By: Sports
Six players with ties to the Nebraska baseball program heard their names called on the final day of the MLB First-Year Player Draft. Along with signee Justin Black, who was picked in the fourth round by the Atlanta Braves yesterday, seven players with Husker ties were picked over the three-day MLB Draft, including five players from the 2012 team.
Husker signee Matt Strahm was first to come off the board on Wednesday in the 21st round when the lefty pitcher was picked by the Kansas City Royals. Three more Huskers were selected in the 23rd round, starting with right-handed closer Travis Huber by the Minnesota Twins. Switching-hitting outfielder Kale Kiser was picked next by the Chicago White Sox and the Cleveland Indians selected catcher Richard Stock two picks later.
After not being able to play baseball for the Huskers in 2012 due to a foot injury he suffered during the 2011 football season, outfielder Khiry Cooper was picked in the 25th round by the Boston Red Sox. Junior Chad Christensen was the final Husker picked in the 35th round by the Miami Marlins
Matt Strahm, LHP (21st Round – Kansas City Royals)
A Husker signee last November, Strahm is a 6-3 left-handed pitcher out of Neosho Community College in Chanute, Kan., and is originally from West Fargo, N.D. In 2012, Strahm helped lead the Panthers to a school record 46 wins and a trip to the NJCAA World Series, where he picked up his 11th complete game of the season in 11-3 win to start the tournament. Strahm led the nation with 122 strikeouts to just 22 walks, as he went 9-3 with a 1.48 ERA. He also posted three shutouts on the year and gave up just 21 runs over 99.0 innings of work. Strahm leaves Neosho CC as the school's all-time leader in complete games, shutouts and strikeouts
Strahm led the Panthers as a freshman with a 9-3 record, including nine complete games for a team that went 29-7 and finished second in the East Division of the Jayhawk league. Strahm posted a 2.82 ERA in a team-high 67.0 innings with 77 strikeouts and just 20 walks. He was one of four freshman in the Jayhawk League to earn first-team All-Conference honors.
Last November, he chose Nebraska over offers from Arkansas, Mississippi State, Auburn, Texas Tech, Oklahoma, Oklahoma State and Oregon.
Travis Huber, RHP (23rd Round – Minnesota Twins)
Huber heard his named called in the MLB Draft for the third straight year after previously being picked twice by the Miami Marlins, first in the 47th round in 2010 and again last year in the 39th round. A transfer from the College of Southern Idaho, Huber was the Huskers' closer in 2012 and picked up seven of the team's 13 saves. The 6-3 righty used his power fastball to strike out 17 batters in just 21.2 innings of work over 20 appearances.
During Big Ten play, Huber made six appearances and gave up just one run, which was unearned, and struck out six in 5.2 innings of work.
Kale Kiser, OF (23rd Round – Chicago White Sox)
Kiser was drafted for the first time after completing his four-year career at Nebraska in 2012. A three-year starter, Kiser played in 181 games, including 158 starts, and ended his career with a .430 on-base percentage. His excellent approach at the plate resulted in a 1.4 career walk-to-strike out ratio, as he walked 101 times to 72 strikeouts.
In 2012, Kiser ranked fourth in the Big Ten in walks with 38 and tied for the conference lead in HBP's with 14. Throughout his career, Kiser was hit-by-pitch 46 times to rank third in the Husker record book.
Kiser saw his power numbers spike in 2012, as his six home runs matched his combined six home runs over his first three seasons at NU. He also drove in a career-high 37 RBI's, topping his previous high of 27 from 2010.
Richard Stock, C (23rd Round – Cleveland Indians)
Richard Stock was drafted for the second time on Wednesday after being picked in the 45th round of the 2009 draft by the Milwaukee Brewers. After playing his freshman season at Southern Cal and his sophomore season at Pierce College in Los Angeles, Calif., Stock transferred to Nebraska and was one of the top hitters in the Big Ten Conference.
The Westlake Village, Calif., native ended the year on a 21-game hitting streak, the sixth longest streak in school history. His 20 doubles and three triples were both team highs, while he ranked third on the team with a .351 average and was second on the team in RBI's with 45. He produced 18 multi-hit games, including nine games with at least three hits and a pair of four-hit games. Stock added 11 multi-RBI games, including four games with three RBI's.
For his efforts, Stock earned third-team All-Big Ten honors and was selected to the Big Ten All-Tournament Team. Stock came to the Huskers as a catcher, but developed into the Huskers' primary first baseman, while also serving as Cory Burleson's backup at the plate.
Khiry Cooper, OF (25th Round – Boston Red Sox)
A fifth-round pick by the Los Angeles Angels of Anaheim in 2008, Cooper decided to come to Nebraska to play both football and baseball. In three-years of work, Cooper played in 102 games and made just four errors while roaming the outfield. His best season came in 2011, when he produced seven doubles and an on-base percentage of .390.
Chad Christensen, CF (35th Round – Miami Marlins)
A first-team All-Big Ten selection at shortstop, Christensen was scheduled to play the outfield for the Huskers in 2012 before an injury forced him back to shortstop, where he started all 55 games in 2011. The Marlins picked Christensen as a centerfielder.
Christensen turned into the Huskers' top power bat in 2012 with team highs in home runs (10) and RBI's (48), after combining for seven home runs and 31 RBI's in his first two seasons at NU. Along with his power numbers, Christensen also led the Huskers' small ball attack with a team-high nine bunt singles and his eight stolen bases were tops on the squad.
The Cedar Rapids, Iowa, native came through with clutch hits all year, as he led the team with 25 two-out RBI's after producing just four two-out RBI's in 2011. Christensen led the team with 23 multi-hit games and had a team-high 13 multi-RBI games, including three games with four RBI's.
The deadline for players selected in the First-Year Player Draft to sign a MLB contract is 5 p.m. ET on July 13.