Several in hospital after icy crash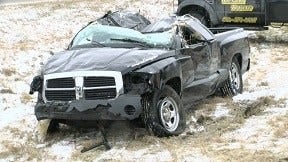 Posted By: Rachel Hofstra
rhofstra@klkntv.com
Although we didn't get as much snow as we were expecting, some Lincoln drivers are still playing it safe.
"It's slick and we got a heavy load and it's just really slick," said one driver, Corey Cooper.
Those icy roads haven't caused too many problems, but did cause one accident for a vehicle heading into Lincoln on Interstate 80.
They hit a patch of ice, lost control and hit the guardrail.
The car then rolled at least two times.
The five people in the vehicle were taken to Brian West.
But Lincoln's roads weren't the only problem.
Travelers had to plan ahead and be careful of the snow storm.
"We stayed a day or two behind so we wouldn't hit it, but were hitting kind of the tail end of it right now," said traveler, Mike Booth.
So if you are taking a long trip plan ahead, because as you head east towards Omaha and into Iowa they are seeing more weather related accidents.
In fact, in Iowa, there are reports of about three inches of snow in the Des Moines area and up to six inches north and east of there.