Severe Weather moves through Nebraska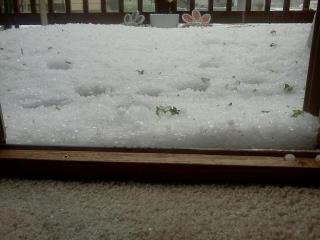 Posted By: Newsroom
Two apparent tornadoes have been spotted in south-central Nebraska but no injuries or damages have reported. Mike Moritz of the National Weather Service office in Hastings says the reports came as the same storm moved through Thayer County about 2:15 p.m. Saturday.
The first, brief tornado was reported five miles southwest of Byron, while the second was reported two miles east of Deshler. Mortiz says the second report was made by a trained storm spotter who believed he saw a rain-wrapped twister based on the debris being kicked up in a field. Moritz says there have been no reports of injuries or damage from those unconfirmed tornadoes. The storm was part of a series forecast for the Midwest this weekend.
Baseball size hail was reported in Norfolk and flash flood warnings have been posted for some counties. Traffic was moving slowly on westerbound Interstate 80 near Greenwood because of high water for some time today.