Seward prepares for Fourth of July festivities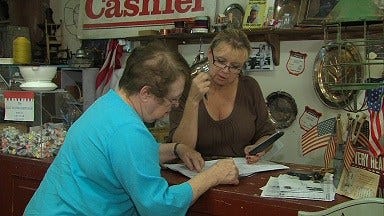 Posted By: Jenn Hatcher
jhatcher@klkntv.com
For the 146th year, red, white and blue will fill Seward, Nebraska on the Fourth of July.
"The festivities start at 7 in the morning with a community breakfast and then the firing of the anvil at 7:30 and there's just stuff going on all over town," says Charles Lieske, Seward Chamber of Commerce Director.
Every year the city of 7,000 transforms to 40,000.
There will be over 100 activities going on throughout the day.
Including, the parade, the governor's reception and the large firework display at 10 p.m.
One new activity is performances at the Old Glory Theater, an old church being renovated into a community center and small playhouse.
Lieske explains, "Our goal is to have diverse types of performances, we've had a piano concert in here, we've had a play, we've had a melodrama and we really hope to offer a variety of performing arts for the people of Seward."
Pat Coldiron owner of the liberty house bed and breakfast and antique shop in Seward, says they're booked for the weekend. She explains, "we have guests here right now from Virginia, Sacramento, California and Missouri." Not only are they busy with guests, the liberty house hosts the annual antique market on its front lawn. Coldiron says, "We have a great variety of antiques, collectibles and curiosities." It's just part of the old fashioned fun, in the Fourth of July city.
A list of Friday's activities can be found at http://www.julyfourthseward.com.
Thursday night in Lincoln the city is putting on the Uncle Sam Jam, that information can be found at http://www.klkntv.com/story/25919323/thousands-of-fireworks-expected-to-light-up-sky.