Sexual Assault Suspect Caught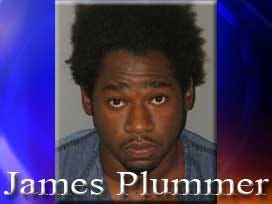 On February 18, 2009, Lincoln Police arrested James Plummer for the sexual assault that occurred on February 14, 2009.
On that date, a fourteen year old girl was walking north on S. 27th Street near N Street when she was approached by an unknown male. They started up a casual conversation.
He later led her to the stairwell of a closed office building at 140 S. 27th where he sexually assaulted her. Following the assault, the suspect was seen entering the Git 'N Split convenience store at 2801 O Street.
Images were captured from the store's video surveillance system. Armed with images of the suspect and a CrimeStoppers lead, an Officer canvassed a building in the 2600 block of K Street.
A woman immediately recognized the photo as James Plummer. He was then located walking in the area of S. 25th and J Street. When contacted, he was wearing the red jacket seen in the surveillance and described by the victim.
James Plummer was brought to LPD headquarters for questioning and later lodged in the Lancaster County Jail for 1st degree Sexual Assault.