Shed fire in Panama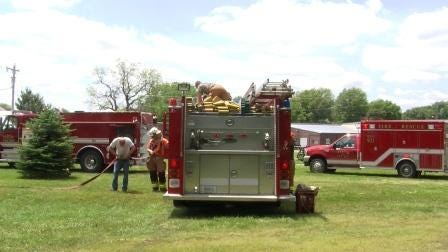 Posted by: Laurann Robinson
A convenient location keeps a fire from getting out of hand.
The fire started in a storage unit in Panama, just southeast of Lincoln.
Officials say the owner of the unit uses it to store older model cars. And today, when he went to start one of them, it backfired and went up in flames. Luckily for the owner of the building, it's located directly across the street from a fire station.
And Assistant Chief David Dorn says, they were able to get into action quickly, and extinguish the fire.
"It hadn't spread to anything else. It just kind of, it burned a little bit on the car itself. And then after that, kind of burned itself out. And when we got there we put the rest out," explained Dorn.
Fire crews were able to get the fire out in just a matter of minutes.
No injuries were reported and official damage estimates are still underway, but Dorn says, only the one car was damaged in the fire.