Sheridan Elementary School teacher honored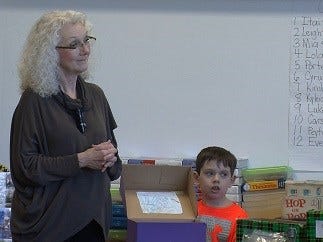 Posted By: Nolan Crane
We want to introduce you to one of two grade school teachers who LPS officials is honoring after selecting a students winning nomination for Teacher Recognition Day. We went to Sheridan Elementary School here in Lincoln for Thursday, March fifths "Excellence in Education."
Deborah Coyle has spent 31 years educating thousands of kids in Lincoln. She's currently teaching her third grade students responsibility as they raise and play with chicken. One of Coyle's students Jenna Beecham nominated her for having a huge impact in her life.
"She's just been a really good teacher this year. She really inspires me and she encourages me to do things that I'm maybe a little bit uncomfortable with. She just really supports me and she's really awesome," says Jenna Beecham.
"This is the biggest award that I've ever received. It's because the people you actually want to change their lives, then you know that maybe you have," says Deborah Coyle.
This winning educator say's she is happy to see her students writing come full circle. Hundreds of nominations were submitted but Jenna's writing helped make her standout. Friday we'll go to Lincoln Northeast High School and showcase the only high school teacher honored this year.