Shooting damages car, garage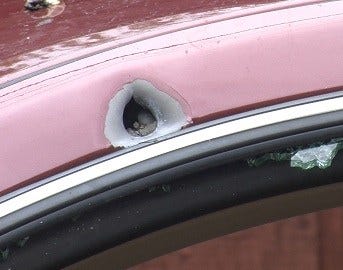 Posted By: Camila Orti
Lincoln police are investigating a shooting that damaged a car and a garage south of downtown.
Neighbors say gunshots erupted near 16th and C streets Wednesday night around 9:30.
"I heard six shots, I was absolutely certain it was gunfire," neighbor Samuel Grove said.
Police say four to five of those rounds hit a maroon Toyota parked in an alley between B and C streets. It belongs to Aurang Zeb and his brother Abdul, who live in an apartment next door.
"We feel very uncomfortable right now," Zeb said.
Zeb says he didn't see anything when he looked out of his window, which faces the alley, until police started surrounding his car.
"He said somebody shot on your car," Zeb said.
The vehicle had two windows shot out, damage to the windshield and a couple visible bullet holes. The garage behind it was also hit. One of the bullets hit the driver's side door, traveled through the car and exited out the passenger side door. Zeb says it's lucky neither he nor his brother was sitting in it at the time.
"Car damage can be recovered, but if somebody loses a life or if somebody got hurt bad or loses a life, that damage is never recovered," Zeb said.
Police say a silver four-door car was seen leaving the area, but they still don't have any suspects.
A similar shooting damaged two cars and a shed two weeks ago near 28th and Randolph streets.
"Investigators are looking at both cases to see if they're related but at this time there's nothing definitive linking those cases," LPD Ofc. Katie Flood said.
Police believe the incident appears to be random.
Unfortunately Zeb and his brother will have to pay for the damage out of pocket, they're looking at several-hundred-dollars-worth at the very least.