UPDATE: 27 reported dead at Connecticut school shooting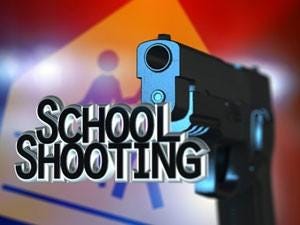 Posted By: KLKN Newsroom
8@klkntv.com
UPDATE: NEWTOWN, Conn. (AP) – Town officials in Connecticut say the principal who died in the rampage at an elementary school was killed while lunging at the gunman as she tried to overtake him.
Dawn Hochsprung was gunned down in Friday's massacre in Newtown. Board of Education chairwoman Debbie Liedlien says administrators were coming out of a meeting when the gunman forced his way into the school and ran toward him.
Jeff Capeci is chairman of the town's Legislative Council. Asked whether Hochsprung is a hero, he says, "From what we know, it's hard to classify her as anything else.''
Hochsprung had worked at the school for two years. Both Liedlien and Capeci say she immediately became a beloved figure. Liedlien says "it's so sad to lose somebody like her'' and that residents are feeling "a deep sense of loss'' over her death.
UPDATE: NEWTOWN, Conn. (AP) – Federal authorities are visiting local gun ranges in Connecticut but have found no evidence that the gunman who opened fire at an elementary school there trained for the attack or was an active member of the recreational gun community.
Bureau of Alcohol, Tobacco and Firearms spokeswoman Ginger Colbrun said Saturday that investigators have also interviewed Connecticut gun dealers and shoring range employees trying to determine whether there was any training or other behavior that precipitated the attack. She says investigators have yet to find evidence of that.
Colbrun says the ATF was tracing multiple guns recovered at the home of the gunman's mother.
UPDATE: NEWTOWN, Conn. (AP) – Connecticut State Police say a gunman who massacred 26 children and adults at an elementary school before committing suicide forced his way into the building.
Lt. Paul Vance said Saturday morning that the suspect was not voluntarily let into Sandy Hook Elementary School in Newton.
Authorities say 20-year-old Adam Lanza shot his mother on Friday, drove her car to Sandy Hook Elementary School in Newtown, and shot 20 children, six adults and himself.
Vance says the medical examiner is still working on identifying the victims.
UPDATE: WASHINGTON (AP) – President Barack Obama has addressed a stunned nation for a second time regarding the Connecticut school massacre, saying the country is "heavy with hurt.''
In his weekly media message, Obama said, "We grieve for the families of those we lost. And we keep in our prayers the parents of those who survived. Because as blessed as they are to have their children home, they know that their child's innocence has been torn away far too early.''
Police say 20-year-old Adam Lanza killed his mother at home and then massacred 26 people, including 20 children, at an elementary school in Newtown. Lanza, committed suicide.
Obama says he and his wife, Michelle, "are doing what I know every parent is doing – holding our children as close as we can and reminding them how much we love them.''
Republicans ceded their time so that Obama could speak for the nation.
UPDATE: NEWTOWN, Conn. (AP) – Authorities in Newtown, Conn. are trying to learn everything they can about Adam Lanza in an effort to figure out what set him on a path leading to the massacre of 26 children and adults at an elementary school.
Police, so far, have shed no light on a possible motive for the nation's second-deadliest school shooting. The 20-year-old gunman, who also killed his mother and himself, was described by some as brilliant but remote. An official who spoke on condition of anonymity said it was not clear that Lanza had a job. A law enforcement official who was briefed on the investigation says Lanza is believed to have suffered from a personality disorder and lived with his mother in a well-to-do part of prosperous Newtown, about 60 miles northeast of New York City. Neighbors are doctors or hold white-collar positions. Lanza's parents filed for divorce in 2008.
UPDATE: NEWTOWN, Conn. (AP) – Officials are identifying the principal as one of the victims in the Connecticut elementary school rampage.
Gerald Stomski is the first selectman of Woodbury, Conn. He says police told him that Sandy Hook Elementary Principal Dawn Hochsprung was among the 26 people the gunman shot to death at the school Friday.
He says she was a principal in Woodbury until a few years ago. He says residents were mourning her death.
Stomski says she had "an extremely likable style.'' Hochsprung had been principal at Sandy Hook Elementary since 2010. Hochsprung had frequently tweeted photos from her job and wrote upbeat tweets about what was going on at the school. More hauntingly, several publications report she wrote a letter before the school year outlining new safety measures including locked doors during school hours.
UPDATE: WASHINGTON (AP) – A law enforcement official says some guns owned by the mother of the gunman in the Connecticut elementary school rampage match the models of the guns used in the shooting.
The official cautions that investigators haven't conclusively linked the guns used in the rampage to the ones the woman owned. The official says state police records show the woman had legally purchased five firearms and all were registered in Connecticut. Authorities are still trying to account for all the guns. The official was not authorized to speak to reporters about the investigation and spoke only on condition of anonymity.
UPDATE: NEWTOWN, Conn. (AP) – Police aren't say what may have motivated a man to open fire inside two classrooms at a Connecticut elementary school Friday, but a law enforcement official who has been briefed on the investigation says the gunman was believed to suffer from a personality disorder
Twenty-six people, including 20 children, were killed in the shooting rampage before the gunman shot and killed himself. Police say another adult was found dead at a second location. A law enforcement official has identified the gunman as 20-year-old Adam Lanza, the son of a teacher at the Sandy Hook Elementary school. The official says Lanza killed his mother at their home before driving his mother's car to the school.
Police say the killer carried two handguns into the school, while a rifle was found in the back of a car. They say the shootings took place in two classrooms, but they are not providing details on exactly how it unfolded.
NEWTOWN, Conn. (AP) – An official at the scene of a school shooting says 27 people are dead, including 20 elementary school children in Newtown, Connecticut.
A shooting involving a gunmen erupted at a Connecticut school this morning, prompting the town of Newtown to lock down all of its schools and draw SWAT teams to the school, authorities said today.
"The shooter is deceased inside the building," Connecticut State Police spokesman Lt. Paul Vance said at a news conference. "The public is not in danger." That shooter is now identified as Adam Lanza, 20, of New Jersey. A dead body has also been found in his home, officials said. Sources said Lanza was armed with four weapons and wearing a bullet-proof vest when he opened fire in the elementary school. Among the dead was the gunman's mother, found in the school, sources told ABC News. Officials say Lanza's 24-year-old brother, Ryan, has been "extremely cooperative'' and is not under arrest. The official tells The Associated Press that Ryan Lanza, of Hoboken, N.J., is still be being questioned but is not in custody and is not believed to have any connection to the school killings.
The official said that a gun used in the attacks is a .223-caliber rifle.
The shooting comes just three days after masked gunman Jacob Roberts opened fire in a busy Portland, Ore., mall killing two before turning the gun on himself.
Today's shooting occurred at the Sandy Hook Elementary School in Newtown, about 12 miles east of Danbury.
State Police received the first 911 call at 9:41a.m. and immediately began sending emergency units from the western part of the state. Initial 911 calls stated that multiple students were trapped in a classroom, possibly with a gunman, according to a Connecticut State Police source.